Best deal in town!! So many e-books and audio books for free!!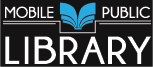 ---
Books!! Books!! Books!! And so much More!
Students and parents can easily get a Mobile Public Library Card and have access to all the library has to offer. The number and variety of e-books and audio books available is amazing.
Reading is fundamental and a skill that students need to practice regularly. Practicing is more fun when you enjoy what you are reading. Students will find a great selection to books with the Mobile Public Library's online resources.
Follow this link to checkout what is available and this link to apply for a library card. Students under the age of 18 must list the Parent/Guardian on the application.